Collaborative research initiative
GENNOVATE represents unprecedented research collaboration for the Centers for International Agricultural Research (CGIAR), a global partnership of research institutes advancing agricultural science and innovation. The large study team spans five continents and includes principal investigators (PIs) with nearly all CGIAR Research Programs (CRPs), as well as other academic and independent researchers. The team includes a mix of senior, mid-career, and post-doctoral researchers from multiple countries.
Study coordination is managed by an Executive Committee (Excom). The Excom was formed at the study's inception in October 2013 and provides ongoing leadership, resource mobilization, capacity building, and knowledge sharing for the study.
GENNOVATE PIs gather online and in workshops to coordinate activities, build research capacities, share learning, collaborate in analysis, and identify strategies for using GENNOVATE results to inform agricultural research for development activities in their CRPs.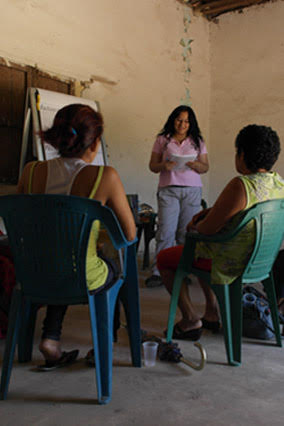 Excom members
Lone Badstue, CIMMYT (chair); Gordon Prain, CIP; Amare Tegbaru, IITA; Marlène Elias, Bioversity International; Patti Petesch, expert advisor; and Paula Kantor (in memoriam)
External resource persons
Shelley Feldman, Cornell University; and Margreet van der Burg, Wageningen University
Field team members and partner institutions
Access the full list of GENNOVATE field team members and partners here.
List of principal investigators
| | | | |
| --- | --- | --- | --- |
| Principal investigator | CGIAR Research Program (CRP) | GENNOVATE countries | Organization |
| Badstue, Lone | Maize, Wheat | Afghanistan, Ethiopia, Mexico, Tanzania, Pakistan | CIMMYT |
| Bauchspies, Wenda | Dryland Cereals | Burkina Faso, Mali, Niger | National Science Foundation |
| Behailu, Lemlem | AAS, Livestock and Fish | Bangladesh, Philippines | WorldFish |
| Bergman Lodin, Johanna | A4NH, Humidtropics | Nigeria, Tanzania | Swedish University of Agricultural Sciences |
| Bullock, Renee | Humidtropics | Kenya | IITA |
| Elias, Marlène | A4NH, Humidtropics, FTA | Kyrgyz Republic, Vietnam | Bioversity International |
| Elmhirst, Rebecca | FTA | Indonesia | University of Brighton |
| Kandiwa, Vongai | Maize | Malawi, Zimbabwe | CIMMYT |
| Kawarazuka, Nozomi | RTB | Vietnam | CIP |
| Kirscht, Holger | A4NH, Humidtropics | Burundi, Nigeria | IITA |
| Luis, Joyce | GRISP | Myanmar, Philippines | IRRI |
| Mudege, Netsayi | RTB | Malawi, Uganda | CIP |
| Najjar, Dina | Dryland Cereals | India, Morocco, Uzbekistan | ICARDA |
| Njuguna-Mungai, Esther | Grain Legumes | Ethiopia, Tanzania | ICRISAT |
| Prain, Gordon | RTB | Bangladesh, Vietnam | CIP |
| Ravula, Padmaja | Dryland Cereals | India | ICRISAT |
| Rietveld, Anne | Humidtropics, RTB | Burundi, DRC, Rwanda, Uganda | Bioversity International |
| Tegbaru, Amare | Humidtropics, Maize | Nigeria, Kenya | IITA |
| Yila, Jummai | Dryland Cereals, Grain Legumes | Mali, Niger | ICRISAT |
Contact us
For more information, please contact Marlène Elias, CGIAR GENDER Platform Alliances Module leader and Senior Scientist at the Alliance of Bioversity International and CIAT, marlene.elias@cgiar.org